Posted on | June 17, 2010 | No Comments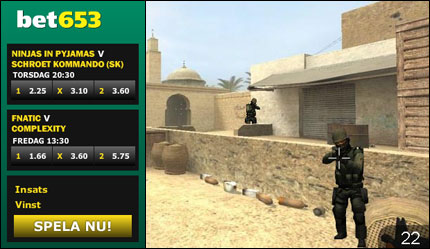 Ever since I worked with the e-sport platform Spelarenan half a decade ago, I have wondered when the gambling-gaming convergence will commence. Yesterday I read an article in Di.se about Richard Branson aiming for a development along the same lines albeit in a different way. The e-sport and gambling convergence is really quite straight forward. Over the last 10 years e-sport has matured into a serious competing skill game with players and league systems just as rigid and serious as any traditional sport. Hence introducing betting is a no-brainer. The trick is to do it in a new in-game kind of way, rather than having Ladbrokes feature odds on coming gatherings in the shops and online. The trick is to integrate the betting element closely with the gameplay, enabling the active players as well as spectators to place bets in the live game environment/software as the game evolvs, in combination with the usual pre-match bets of course.
Sir Branson seems to have a slightly different take, he rather wants to attract more gamers by adding real prize monies. Not any ground-breaking gaming-gambling convergence but still a step in a direction towards new ways of capitalizing on the enourmous interest for gaming that is present world wide. (Already 6 years ago, estimats had it that more Swedes were actively engaged in e-sports than in football, which falsely is stated as the number one sport in Sweden in terms of volumes of practising people).
So, the first ones to crack this convergence can look forward to huge profits when tapping into a market that is not only massively huge globally, it also features a hundred percent Internet savy users that on top of that are willing to spend ludicrous amounts of their available income on gaming. Add a willingness to take risks to that and it should start twithing in your money counting fingertips.

Comments