Posted on | February 19, 2010 | No Comments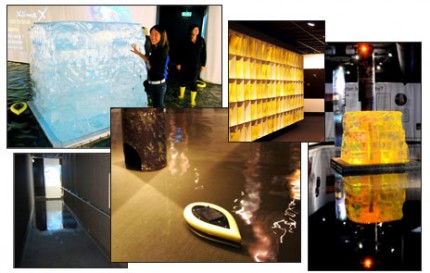 What is an exhibition? It can be an A-Z chronological display of text, images and objects. But it doesn´t have to be. It could equally well be an interactive story that pulls you in as an actor using all your senses and guaranteeing you vivid memories afterwards. This blog post is intended as an inspiration around communication in general, and a salute to all people daring to go outside the traditional boundries of their professional trade in particular.
All profoundly good communication is based on proper and robust storytelling and an ability to engage the audience not only in information, but in true engagement, interaction, and to provoke questions on top of delivering answers. Good communication stands above channel choice or traditional disciplines.
"Klima-X" is the name of an exhibition on climate change in Norway, designed by architects Codesign. Rather than adapting the inherited view of what an exhibition should look like (displaying objects, preferably in a chronological order or flow), Codesign have turned the exhibition into an interactive story. Already before entering the actual exhibition, the audience is pulled into the story and forced to take an active part in it. Rubber boots on! (As the entire exhibition is flooded to represent the melting glaciers and polar ices). The hand rail leading down to the exhibition changes in temperature to make you aware that a climate change is taking place.
The interaction goes on, there is simply put no way you can leave the exhibition without having to reflect actively over the story. My point is that I think this exhibition displays great communication. It could have been conceived and produced by an action marketing agency, by an advertising agency, a retail consultant, or by an architect. My guess is that most of the mentioned would have struggled producing such a creative and mezmerizing result. Hat off Codesign and well done!
All image rights Codesign AB

Comments