Posted on | June 21, 2011 | No Comments
På samma tema som i föregående post (trendspaning), noterar jag idag att mobila appar passerar mobilt internet via browser i tid räknat. Inte via längre sessions utan via fler sessions. Enkelt uttryckt levererar mobilen äntligen på sitt löfte om "where ever and when ever". Vilket osökt för mina tankar till min långt tidigare bloggpost om "share of clock" och hur varumärken och marknadsförare inte behöver oroa sig över vilka konkurrenter vi ska ta kundernas spend ifrån, utan över vilka sysslor vi ska ta deras tid ifrån.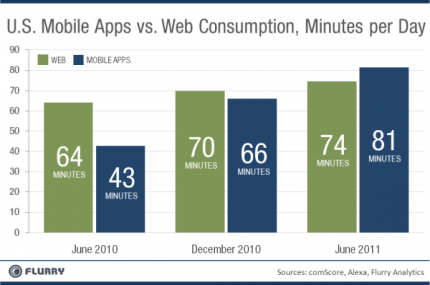 En annan reflektion är att varumärken bör beakta detta när de närmar sig utveckling av egna appar. Vad vill kunderna ha ut? Sannolikt i hög grad samma sak som de idag får ut av att besöka varumärket via browser, men i ett gränssnitt som är effektivare, snabbare och mer anpassat till telefonen.

Comments